Mekaelia Davis Joins the Surdna Foundation as Director, Inclusive Economies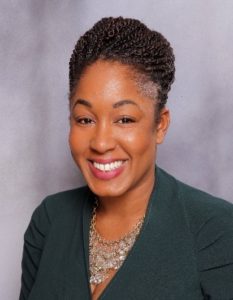 The Surdna Foundation is pleased to announce that Mekaelia Davis has been selected as Program Director of the Inclusive Economies program.  Mekaelia will lead a $9.2 million annual grantmaking program and oversee a $9 million program related investment portfolio, implement newly refined program strategies, develop new initiatives, and deepen institutional knowledge to ensure maximum impact of foundation dollars. Working closely with senior program leadership across the Foundation, she will also pursue opportunities to connect the Inclusive Economies program to the Foundation's Sustainable Environments and Thriving Cultures programs. Mekaelia will begin on November 12, 2018.
"I am incredibly honored to join the Surdna Foundation," said Mekaelia. "Surdna has a well-established history of pioneering strategies that increase equity and inclusion and positive outcomes for communities across the country. I look forward to contributing to this mission and joining the talented staff and board in their commitment to social justice."
Mekaelia has spent nearly fifteen years at the intersection of public and private systems to drive social and economic opportunity for communities across the United States. Mekaelia has served as a Director of Corporate Giving at Prudential Financial since 2015 where she manages over $10 million in national and place-based grants. Her portfolio focuses on advancing economic development, education, workforce and public safety outcomes – including Prudential's commitment as a corporate anchor in Newark, New Jersey.
Prior to joining Prudential, Mekaelia worked at the Aspen Institute, where she managed policy and program strategies to reduce generational poverty. Her work examined innovative ways to align resources across postsecondary education, workforce development, and criminal justice systems. Mekaelia has held roles with several high-impact organizations, including the Annie E. Casey Foundation and Sponsors for Educational Opportunity.
"We are thrilled that Mekaelia will bring her significant experience in supporting and advancing economic mobility to her new role as Director of Inclusive Economies," said Betsy Fader, Vice President of Programs at Surdna. "Her work to create cross-sector partnerships and nonprofit practices that inform social policy and improve community economic development will be invaluable as we launch the newly refined strategies for Inclusive Economies."
Mekaelia has been selected for several competitive fellowships including PLACES with the Funders Network for Smart Growth, and the Leadership Institute at the Center for American Progress.  She previously served as the board co-chair of the Young Nonprofit Professionals Network of NYC overseeing organizational strategies and developing infrastructure.
Mekaelia received a B.A. in Political Science from Hunter College of the City University of New York.  She also earned a Master of Public Administration from Baruch College, as a National Urban Fellow, where she graduated Pi Alpha Alpha, the national honor society for students of public administration.