Community LIFT provides capacity-building grants to community development corporations and empowerment grants to grassroots leaders. It also operates a community development financial institution (CDFI) that provides non-traditional access to capital for small business owners, who are often women, immigrants and people of color, operating within low-to-moderate-income communities.
The organization emerged in 2010 out of a city planning process called Greater Memphis Neighborhoods. Eric Robertson – now LIFT's president – was the project manager. A graduate of the Neighbor Works Achieving Excellence Program in collaboration with Harvard University's Kennedy School of Government, Robertson is a life-long Memphian fueled by hope for his community's future.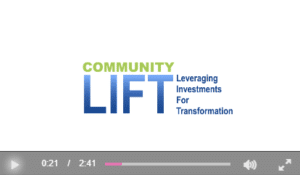 Robertson's deep connection to the community is exactly what makes Community LIFT stand out. It is why when the Mayor's Innovation Deliver Team needed a partner to revitalize a distressed commercial and industrial corridor, he sprang into action. Through Community LIFT's CDFI, River City Capital, LIFT was able to quickly move with facilitating capital to a number of existing and new businesses. In addition, LIFT served as liaison to business owners to leverage façade and tenant grants from the city's economic development agency.  As the only homegrown small business loan fund, River City Capital is uniquely positioned to provide rapid support to the community. Due to LIFT's knowledge of Memphis' needs and relationships with the city government, change can be as simple as a single phone call. While there are other CDFIs in Memphis, River City Capital is the only one operated exclusively in Memphis, focused solely on small business lending as a strategy for neighborhood improvement.
LIFT's community development work goes beyond small business loans. At the end of the day, Robertson said, they're "hoping to grow wealth in the community, increase job opportunities, strengthen family income stability and improve overall community health." They know that access to capital is only one component of making their vision a reality. That's why they look at businesses holistically, prioritizing that LIFT invests in those that renew vacant and blighted buildings, bring services to the area, offer living wages and hire community residents. Robertson calls this the "practice of transforming place."
"Surdna has been a big part of Community LIFT's success," said Robertson. The Foundation made the first investment in LIFT's loan loss reserve fund, which was "crucial for attracting potential investors to also contribute to the fund. It's allowed LIFT to raise a significant amount of money." In addition to spurring the loan loss reserve fund, Surdna's grant built Community LIFT's capacity to grow its team of lending experts, allowing them to make policy recommendations to city officials. Today, four of LIFT's proposed policies are in place and are strengthening businesses in some of Memphis' most distressed neighborhoods.
Community LIFT plays an equally meaningful role in the Surdna Foundation's Inclusive Economies program. As an African American-led organization, with a community-driven approach, a constantly-innovating mentality and deep ties to Memphis – a city where people of color make up a supermajority of the population – LIFT is an important local partner. As Robertson noted, "Memphis is a truly traditional southern city with a unique historical and cultural context that sets it apart from others" – much like the way Robertson's practice of transforming place sets Community LIFT apart from other community development intermediaries.