NDN Collective: Art as Activism
In 2020, Surdna's Thriving Cultures Program launched an artist regranting initiative that supports artists of color around the country, funding up to 87 artist-led projects each year and approximately 260 projects over three years. The NDN Collective is one of the Program's 11 regranting partners that distributes Surdna's funds to artists, artist collectives, and small artist organizations to work with their communities to imagine and practice racially just systems and structures at a local scale.
The following story shows a few of the many ways the NDN Collective is working with artists to preserve and protect Indigenous lands and people.
About the Organization
NDN Collective is an Indigenous-led organization dedicated to building Indigenous power. Through organizing, activism, philanthropy, grantmaking, capacity-building and narrative change, NDN is creating sustainable solutions on Indigenous terms.
NDN Collective Collabs with Artists to Defund the Line 3 Pipeline
By Brandi Douglas | Originally published by NDN Collective
Artists create and call others to join the fight to stop Line 3. Nationwide wheatpasting action occurs with some 6,000 Defund Line 3 newspapers making their way to over 400 groups and activists.
In preparation for participation in a wheatpasting action for the #DefundLine3 Arts Visibility Week of Action, individuals could request a #DefundLine3 Newspaper from NDN Collective and Stop the Money Pipeline organizers. So far, roughly 6,000 newspapers made their way to over 400 groups and activists spanning multiple states across the U.S.
A digital Defund Line 3 Art Kit was also made available, containing the art and art actions stemming from 10 different artists from across the climate justice movement who contributed their work to this project, including Isaac Murdoch, Christi Belcourt, Killjoy Mall, Dio Cramer, Moira Villiard, Jackie Fawn, Sadie Red Wing, Asa Wright, Averian Chee and Crystal Clarity.
"Indigenous art is often glorified and taken advantage of by non-Indigenous organizations," says Cy Wagoner (Diné),  NDN Collective Creative Resistance Coordinator and longtime artist. "But art on Indigenous issues needs to come from Indigenous communities."
To date, hundreds of Indigenous leaders, Water Protectors and allies have been violently accosted, removed and arrested in their efforts to put a stop to the destructive Line 3 Enbridge project. Meanwhile, pipeline developers continue to ignore the sovereign rights of various Indigenous Nations whose homelands they are desecrating. Just this past week at the Red Lake Treaty Camp in Pennington County, Minnesota, Indigenous leaders in ceremony were violently disrupted by law enforcement who proceeded to aggressively arrest those who positioned themselves between law enforcement and those in ceremony– a blatant violation of the American Indian Religious Freedom Act.
The #DefundLine3 Campaign seeks to suffocate the financial backing of the Line 3 pipeline by prompting individuals to contact banks, CEOs and executives, calling upon them to  cease funding of the project. The #DefundLine3 Arts Visibility Week of Action further amplified these efforts, providing the tools and creative direction to allies and organizers across Turtle Island to join in on the campaign.
Leading up to the  #DefundLine3 Arts Visibility Week of Action, NDN hosted an art deployment webinar, providing instruction on art-based tactics for participants to deploy in their home communities during the week of action. Participants were introduced to art-based tactics involving newspaper posters, street murals, banner drops, street theater and more, as  vehicles of expression to highlight the change necessary to preserve and protect the land and people.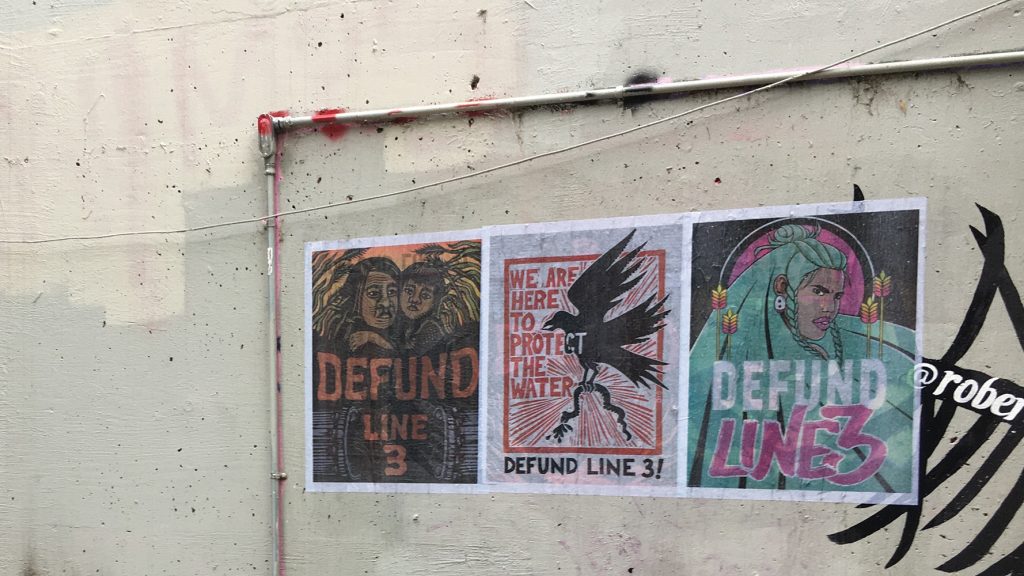 During the week of action, participants wheatpasted #DefundLine3 art across various states across the U.S., with some 6,000 #DefundLine3 newspapers making their way to over 400 groups and activists.