Community LIFT: A Push for Place
By the end of July, the group that works to connect the dots among the city's community development corporations plans to have a report that looks at how other cities are connecting the dots in a much broader way.
Community LIFT has commissioned and funded a study by Washington, D.C.-based research and policy firm Good Jobs First of how other cities have broadened their economic development efforts beyond engaging site consultants and courting corporations looking to relocate or expand.
"Economic development is much broader than just that," Community LIFT president Eric Robertson said in a meeting this week with the editorial board of The Daily News. "There are some things that involve not only thinking about how to revitalize old abandoned commercial corridors and vacant land," he said. "How do you think about vacant commercial retail centers in some of our communities? How do we support small businesses and startup businesses, but also how do we think about marrying place with economic development?"
The study is to be completed by the end of July, with a Good Jobs First leader coming to Memphis to talk about their findings.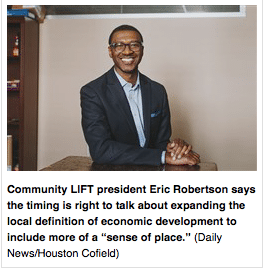 The timing of the examination comes as civic and business leaders – all the way up to the Memphis and Shelby County mayors, the City Council and County Commission, and the Greater Memphis Chamber — are questioning and reviewing the local approach to economic development and specifically the role of the Economic Development Growth Engine, or EDGE.
Robertson, through his contacts, already knows of similar quasigovernmental entities in other cities that have the power to grant incentives and can take on a broader role because they have much larger staffs of several dozen people.
That broader role includes taking on remediation of land through land banks that could be shopped more aggressively to economic development prospects and their site consultants.
"They are packaging it up so they can attract companies. They also have the ability to do TIFs (tax increment financing districts)," Robertson said of the use of property tax increment incentives based on the increase in appraised values and property tax revenue on the land an economic development prospect picks.
"So they are doing the TIF around land and they are incentivizing housing developments so there can be quality affordable housing," he said. "So when a company does come, they not only have the site plan with the actual construction of where the commercial or industrial development will go, but they are acquiring the single-family land around that so they can then work with developers on housing around that."
Robertson refers to it as "marrying place to that economic development."
"And they are making sure that it has a connection," he said. "The level at which they are connecting the dots around the work is what we've been missing."
To him, the most visible example is the 40-acre site of the old Firestone Tire and Rubber Plant in North Memphis, which closed in 1983 at about the same time the International Harvester plant closed on the north side of the Wolf River in Frayser.
Firestone was the first thing City Council member Martavius Jones thought of as Robertson briefed council members this week on the Good Jobs First study underway.
"I don't think there has been any will or initiative on that," Jones said of Firestone, contrasting that with the state's emphasis on further development of the Memphis Regional Megasite in Haywood County toward landing an industrial prospect there.
Robertson said his effort to broaden the definition of economic development isn't an attempt to "point fingers" at EDGE or the chamber. He said a broader definition could very well see EDGE take on a greater role with more resources.
But he also said Firestone is an example of what happens when economic development is limited to the site a company likes – maybe with the idea that a resurgent community automatically results.
"Here is what happens when you don't have this broad definition of what community development is and you are not being intentional in marrying place to that economic development," he said.
Because the chamber and EDGE set up areas of specific responsibility, much discussion awaits about what those changes mean to each organization and others.
(Source: Memphis News Daily)