Impact Investing for Social Justice: Looking Back and Moving Forward
Six years after the Surdna Foundation made an initial allocation of $100 million to impact investing, Adam Connaker, director of Impact Investing at the Surdna Foundation, reflects on Surdna's learning journey and considers the future of our endowment. The below excerpts pull from Adam's article, originally published in GreenMoney Journal's Impact Investing October 2022 issue.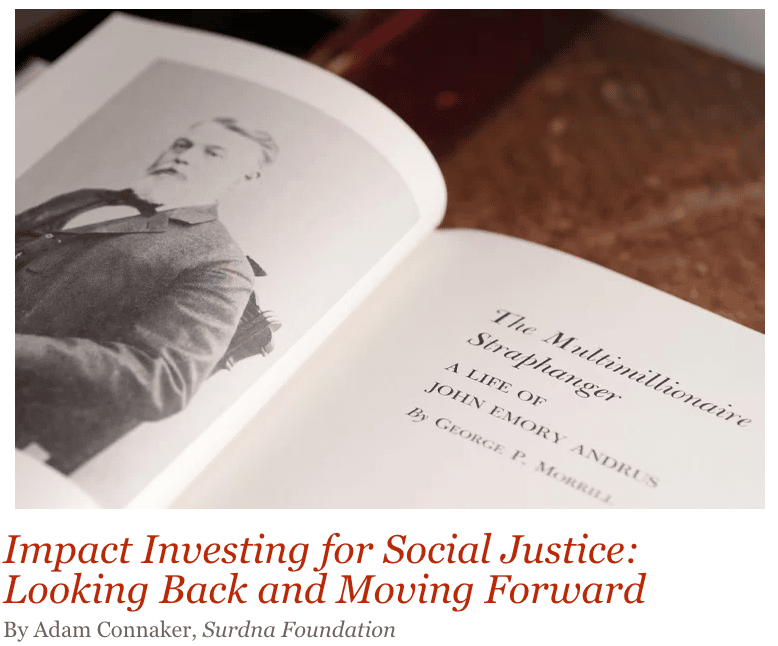 Like so many impact investors, we've hit an inflection point. For several years, our Foundation has taken steps to explore the terrain of impact investing, steadily learning how to complement and enhance our work to move toward positive value in this world. Now, we must take stock of where we are and chart a course for the future.
Surdna's $100 million commitment was the first step on a journey toward an endowment of the future, built on the principle of innovative solutions to core issues faced by society. It is quickly proving capable of generating impact directly to communities in need and supporting managers with a new vision for the future of finance. It is also highlighting challenges and lessons learned that are critical to overcome to strive toward a long-term vision of authentic 100 percent mission alignment.
Article highlights
Explore Surdna's learning journey to mission-aligned investing as we set out to learn how our endowment, and the broader global financial system, could complement and augment our service to communities in need.
Learn about how the managers we invest with at Impact America Fund,  Illumen Capital, and Founders First Capital Partners are building economic opportunity for gender and racially diverse communities and challenging the field of finance to reckon with issues like racial bias.
Examine our challenges and deeper questions like rethinking "graduation" to set managers up for long-term success and how to ensure that racial justice investing permeates all investments.
"While there are great strategies that address specific racial disparities, and we will continue to invest in those, we need to carry the practices of analyzing and addressing racial impact to all our investments."
– Adam Connaker, Director of Impact Investing, Surdna Foundation.
____________________________________________