On Narratives and Making Justice Pop
I am a gay Puerto Rican cis-man raised in Massachusetts. In public, I have the privilege of passing as white. My parents were activists since they were young and always vocal on issues of justice, whether on the island or stateside. Growing up, I learned my responsibility to my community was to fight for my voice to be heard and a seat at the tables of power. Life often felt like a battleground, and I was in it to fight the good long fight.  
Over the years, I realized that some of these tactics were limited. I became intensely aware of the power of listening, storytelling, and culture, especially in justice movements. I've always seen protests as vital to progress and part of a more complex movement. I could only knock on so many doors and there were only so many deep discussions I could engage in to move hearts and minds. How could I—how could we—make a bigger difference? 
That's where narratives enter my life story.  
The stories we collectively tell—from pop culture to politics and from how we remember the past to the future we yearn for—have always been essential ingredients for social change. Narratives mobilize anger and fear that chips away at our freedom and democracy—white supremacy, mass incarceration, the big lie, the January 6th insurrection. But narratives can also mobilize millions to improve the human condition–I Have a Dream, Black Lives Matter, Love is Love, One Fair Wage, to name a few.   
Through my work at ArtPlace and now the Surdna Foundation, I have the privilege of supporting Black, Indigenous, and people of color (BIPOC) artists, strategists, researchers, and communities to tap their radical imagination. These leaders work with their communities to envision and prototype racially just communities, policies, and narratives. It's all about communities engaged in imagining and showing what's possible when we center love for humanity, dignity, and self-determination.  
One such community is the Pop Culture Collaborative, which Surdna has been a proud member and supporter of since 2020. Over the past five years, the Collaborative has been tilling the field and seeding stories and narratives of a more just, inclusive, and thriving society. They have supported me in understanding how I more clearly tell my story and how our individual stories connect to larger narratives to build community power.  
Our commitment remains strong for narratives that bring us closer to truth and justice which is why I am honored to share #Making Justice Pop: The Story of the Pop Culture Collaborative's Impact at 5 Years.  
Inside this report, you'll learn about how the Pop Culture Collaborative: 
Defined and centered BIPOC innovation and pluralist culture as its North Star;

 

Created a Theory of Narrative Change that immerses and activates millions of people;

 

Developed a groundbreaking narrative systems strategy that inspires radical coordination;

 

Powered an innovative narrative infrastructure grantmaking approach, resourcing primarily BIPOC, Muslim, immigrant and refugee artists, organizers, strategists, and researchers;

 

Successfully engaged 100 million+ Americans through their Becoming America Fund;

 
Supported the leadership of grantee partners and their phenomenal impacts on the American cultural landscape; and

 

Built a learning community of philanthropic partners to boldly invest in pop culture narrative strategy. 

 
The Collaborative is now moving into its next chapter—scaling its tested strategies to meet the narrative challenges of our times—and is excited to invite new learning and investment partners to the table. Do not hesitate to contact me to learn more about how to get involved – you are enthusiastically invited to join us!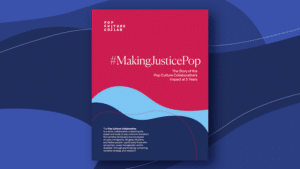 Learn More