This Monday, we lost our beloved Board member and friend Gwen Walden to cancer. Gwen was a gentle powerhouse, always speaking with great wisdom and insight, drawing from her deep knowledge of the philanthropic and nonprofit sectors, and personifying social justice values in everything she did.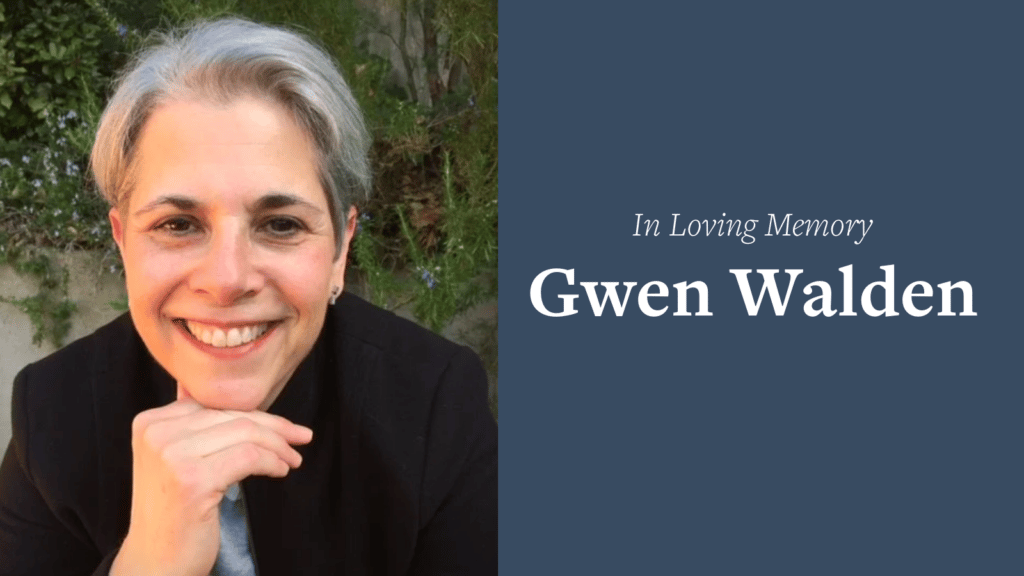 In addition to serving on the boards of the Surdna and East Bay Community foundations and Breast Cancer Prevention Partners, Gwen was a Senior Managing Director of Arabella Advisors where she touched many lives by working on a wide range of issues, including the arts, health, early childhood, and education.
During her 11-year tenure on Surdna's Board of Directors, Gwen's influence has been profound. Early on, she helped guide the Foundation's work on arts and culture and most recently served as Chair of Surdna's Sustainable Environments Program Committee and as a member of the Executive and Investment committees. Her voice carried a tremendous amount of weight in the boardroom. In 2020, she called for the creation of a $6 million program-related investment fund to channel more capital to BIPOC communities as a contribution toward our nation's racial reckoning. As an expert on leading philanthropic practices, she helped the Foundation live up to its aspiration to be a first mover in trust-based grantmaking, impact investing, participatory learning and evaluation methods, and other innovative practices.
We will always cherish the intimate moments and laughter shared with Gwen over meals, site visits, and downtime. Like many of us, she also often shared details about what was truly important in her life—her partner Carol, family, and friends. An avowed "bird nerd," she became animated when we talked about birds we had recently seen—especially the raptors that soared in the sky and in her spirit.
Over dinner in November, Gwen spoke at length about "what Surdna has meant to me," noting that her time on the Board had coincided with the illness that eventually took her life, and that our work to advance justice, our deep friendships, and the lessons and epiphanies that we experienced had been enormously meaningful for her. She closed that evening by citing her contribution to Arabella's first-ever Impact Report, in which she asked: "How can we continue to promote a culture of 'shared destiny,' one that takes as its bedrock principle that no matter our differences, we as individuals can only thrive when all of us do?" Her response was characteristically insightful and compelling:
"Ultimately, we recognize that we can only hope to overcome the challenges we face by acknowledging our shared fate and creating solutions together. We also know that at the root of every philanthropic effort, there is love—love for one other and for the humanity we share, which expresses itself in art, music, religious practice, and so much more, including the act of giving itself. From this root flows gratitude, compassion, desire for justice, generosity, joy, and the other ingredients that form the better angels of our nature. These ingredients, in turn, provide the fuel for ideas that can lead to transformative change, as well as the energy needed to convert those ideas to impact…We are in this together. Our job is to help build a better future. We can, we must, and we will continue to do good better."
Our longtime colleague Ben Dunn called Gwen his "imaginary firecracker" on the Board. She sparkled and shined so that we all could see. She will forever be a light in the sky.
In lieu of flowers and as a way to honor and remember Gwen, you may make a donation to Breast Cancer Prevention Partners or East Bay Community Foundation.
Carra Cote-Ackah
Chair, Board of Directors
Don Chen
President
Honor Gwen's Memory