Robert Smith III Joins the Surdna Foundation as Program Officer, Thriving Cultures
The Surdna Foundation is pleased to announce its hire of Robert Smith III as Program Officer of the Thriving Cultures program. Robert will help guide the implementation of the Thriving Cultures' refined strategy, Radical Imagination for Racial Justice. In his new role he will develop and leverage relationships with key partners to support the advancement of Thriving Cultures' programmatic goals.
Robert will begin on March 4, 2019.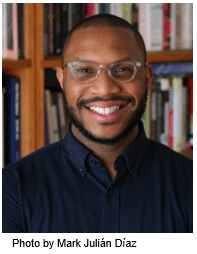 "I am excited to join Surdna as it deepens its commitment as a leading social justice funder," said Robert. "I understand that social justice and racial justice are inextricably linked, and I look forward to bringing my experience of working with creative communities of color to bear on Thriving Cultures' ambitious refined strategy."
Robert is a curator and arts administrator leveraging the power of art, culture, and memory to build a more just society. He most recently served as Associate Director of the National Public Housing Museum (NPHM), set to open in 2020 in Chicago, IL. NPHM is the only cultural institution devoted to telling the story of public housing in the United States.
Robert has also held positions at the Art Institute of Chicago, the Walker Art Center, the Minnesota Historical Society, and OutRight Action International, an organization devoted to fighting for human rights for LGBTIQ people everywhere.
"We are absolutely thrilled to have Robert join the Thriving Cultures team," said F. Javier Torres, Director, Thriving Cultures at Surdna. "Robert brings years of experience working with artists, advancing social justice, and a passion for building sustainable and equitable communities. He will be an important addition to the team as we implement our refined strategy."
Robert previously served on the boards of Project Fierce Chicago, a grassroots response to LGBTQ youth homelessness; the PFund Foundation, an LGBTQ community foundation based in Minneapolis; and the Brown University Alumni Association.
Born and raised in South Florida, he is a graduate of Brown University and the University of Minnesota.