Shuaib Siddiqui, Director, Impact Investing
Shuaib A. Siddiqui is the Surdna Foundation's director of impact investing. For the past two years he has led the Foundation's efforts to go beyond its mission-aligned investing strategy to also build up the field of impact investing. "The big question that I'm trying to answer is: How do we use investment capital to promote the change we want to see in the world," explained Shuaib.
Shuaib believes that grant dollars alone will not solve all the problems that communities face, which is why investment capital should be part of the solution. "There are trillions of investment dollars out in the world," he said. "If we can enable some of those dollars to flow into communities and help entrepreneurs of color build thriving businesses that employ local community members, we can build healthy, thriving communities."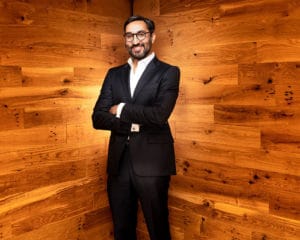 Shuaib began his investment career on Wall Street. When he realized he had a passion for figuring out ways to use investment capital to catalyze change, he began his impact investment journey, which led him to the Acumen Fund.
Acumen is a nonprofit venture capital firm that invests in early-stage companies providing goods and services to low-wealth communities in South Asia and sub-Saharan Africa. For nine years, he worked toward using investment capital to solve challenges that the emerging-market world is facing, such as limited access to high-quality education and affordable power. Shuaib recognized that the work he was doing was applicable to the U.S. "I saw similarities, not just in terms of how we deliver these goods and services, but also in the interplay of race and class in the inequities we're seeing," he explained. "And I realized that if I'm really interested in solving these challenges, and I'm based in the U.S., then I really need to focus at home."
Shuaib was drawn to Surdna's willingness to take risks, which he believes is critical to creating social change. "One of the exciting things for me is that the Surdna Foundation's grantmaking is operating at the edge and is pushing the field further," he explained. "Stepping into an organization that is comfortable with some of the risks that we take every day is exciting. The Foundation is comfortable asking 'how do we solve some of these challenges?' And knowing that we might not always get it right.  And, when we do get it right, we ask, 'How do we work with our partners to scale it up?'."
Surdna's recent commitment to investing 10 percent of its endowment ($100 million) in a mission-aligned way is a prime example of that culture, Shuaib said. As part of its investment, the Foundation shared its experience with other grantmakers thinking about impact investing through its "Mapping the Journey to Impact Investing" publication. Shuaib believes the Foundation's commitment has made it easier for peer funders to take the leap and align their assets with their values. "There's comfort in numbers," he explained. "We are seeing a lot more institutions asking themselves, 'How does our investment capital play a role in catalyzing the change we want to see in the world?' To be a part of that movement and that conversation and to guide leadership in this space is really exciting to me."
Shuaib's hope for the future is inspired by the dedication of his current and former colleagues to improving the lives of others and the commitment of Surdna's peer institutions to using investment capital for good. "They wake up every single day and fight the fight, even when they don't know what the outcome will be. They're in it because we have to do something," he said. "They have the audacity to believe that we can change the world. They know that we may not be able to do it in our lifetime, but they believe if there's a chance we can improve the lives of people someday, it is worth the battle."
Learn more about Surdna's Impact Investing work.