Adam Connaker appointed Director, Impact Investing at the Surdna Foundation
New York, NY, March 7, 2022—The Surdna Foundation today announced that Adam Connaker, an investment professional whose work has focused on harnessing innovative finance for positive social and environmental outcomes, has been appointed Director, Impact Investing. Adam, who will report to Marc de Venoge, Vice President, Finance and Administration, begins his new position today.
Adam will direct Surdna's impact investing program, overseeing a $100 million portfolio and leading an ongoing effort to align the Foundation's investment policies and practices with its social justice mission. He will support the Foundation to meet the risk, return, and impact objectives of its program- and mission-related investments, seeking to create wealth in communities of color and foster a just, sustainable future.
Before joining Surdna, Adam was Director of Innovative Finance at the Rockefeller Foundation, where he and his team supported research, strategic direction, and implementation of the Foundation's program-related investments. In this role, he also spearheaded Rockefeller's climate finance and racial justice investments and managed relationships with grantees throughout the investment process.
"I'm delighted to welcome Adam Connaker to our team," said Marc de Venoge, Vice President of Finance and Administration at the Surdna Foundation. "Adam is a respected and experienced leader in innovative, market-based investments that generate social, environmental, and financial returns. I especially appreciate his deep understanding of racial justice issues and familiarity with many of Surdna's impact investment partners through his previous work at the Rockefeller Foundation. I look forward to working with him to help Surdna's impact investments move the dial toward better outcomes for all."
In undertaking his new role, Adam Connaker said, "I am honored that Surdna is entrusting me to guide the Foundation into its next stage of impact investing. I am committed to sharing what we learn and using all of our tools–our voice, impact investments, and endowment—to help bring about a more just and sustainable future."
"Impact investing is part of the solution set to climate change and economic inequity that have disproportionately affected communities of color for far too long," said Don Chen, President of the Surdna Foundation and co-chair of the Presidents' Council on Impact Investing. "We are grateful to have such a capable colleague like Adam to carry Surdna's impact investing forward and help build the field of impact investing. We hope our efforts will yield lessons for investors seeking greater impact and positive outcomes for people and the planet."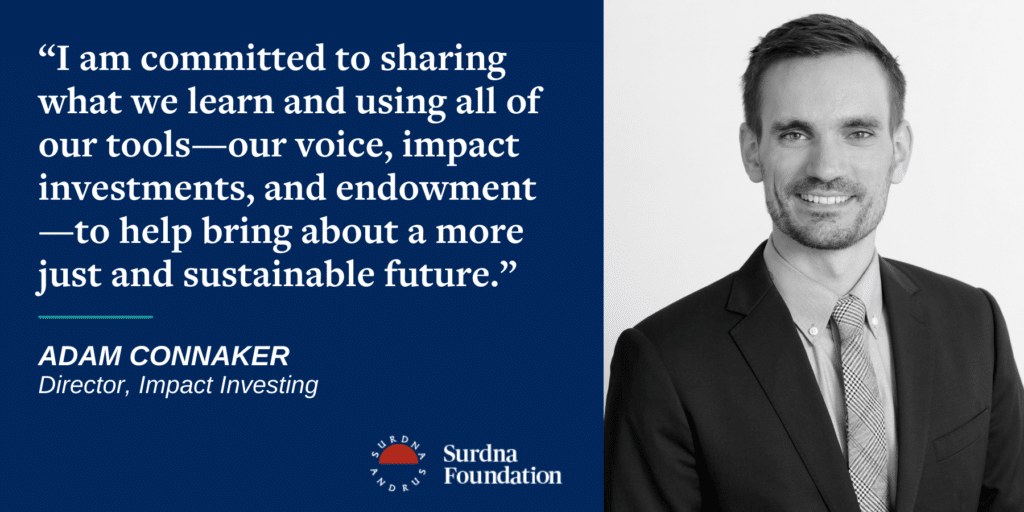 Surdna has been making program-related investments since 2013 and mission-related investments since 2017, at which time the foundation published its report "Mapping the Journey to Impact Investing."
Program-related investments (PRIs) are typically low- to no-interest loans and other financial instruments, including guarantees, that allow organizations to access capital from other investors, test new approaches, and scale promising solutions. All PRI income and repaid capital are funneled back into the portfolio for reinvestment in impact strategies.
Mission-related investments (MRIs) include market-rate investments from the Foundation's endowment that align with the Foundation's mission of fostering just and sustainable environments as well as other strategies for considering environmental, social, and governance issues in investment decisions.
To further align Surdna's investments with its social justice mission and values, the Foundation stopped investing in fossil fuels in 2018 and revised its asset allocation, eliminating its inflation hedge/hard asset allocation. Since 2010, Surdna has rigorously sought out women and Latinx, Black, Indigenous, and people of color (BIPOC)-owned investment managers with great success.
Shuaib Siddiqui, Surdna's inaugural Director of Impact Investing, concluded his work at the Foundation in mid-2021 to take on an exciting role helping an international family build a values-aligned investment office. Shuaib made significant contributions to Surdna's impact investing strategy and the larger field. Chief among them is his concept of graduating impact investments from PRIs to MRIs, and then scaling investments up into the Foundation's endowment, thereby increasing access to capital for investment managers of color and communities of color.
"We are excited for Adam to take the baton from Shuaib and continue to move Surdna's impact investing toward bringing about Surdna's social and racial justice mission," said Marc de Venoge.
Learn more about Surdna's Impact Investing journey.
Contact:
Elizabeth Cahill | Director of Communications and Engagement, Surdna Foundation
973-900-3897 or ecahill@surdna.org
About The Surdna Foundation
The Surdna Foundation fosters sustainable communities in the United States — communities guided by principles of social justice and distinguished by healthy environments, inclusive economies, and thriving cultures.
For over five generations, the Foundation has been governed largely by descendants of John Andrus and has developed a tradition of innovative service for those in need of help or opportunity.