Alison Corwin Departs Surdna for an Exciting New Role at a Climate-Focused Foundation
The Surdna Foundation announced today that Sustainable Environments Program Director Alison Corwin is leaving to take on an exciting new role with a spend-down foundation focused on climate. Stay tuned for more on that soon!
For nearly a decade, Alison has been a crucial part of our Sustainable Environments Program, joining Surdna in 2013 as a Program Officer and later serving as a Senior Program Officer until April 2021 when she stepped into the role of Interim Co-Director with Kellie Terry before becoming Program Director in November.
"I am so proud of all the work we've accomplished together with the incredible Sustainable Environments team," said Alison. "Many folks have contributed to what we've created and none of it would have been possible without our fearless leaders Helen Chin and Kellie Terry—both of whom poured their hearts and souls into this team and beyond. It was the honor of a lifetime to work alongside them for so many years. I leave with full confidence that the Sustainable Environments team and Surdna's work for racial justice, under our President Don Chen's leadership, is strong and will carry forward.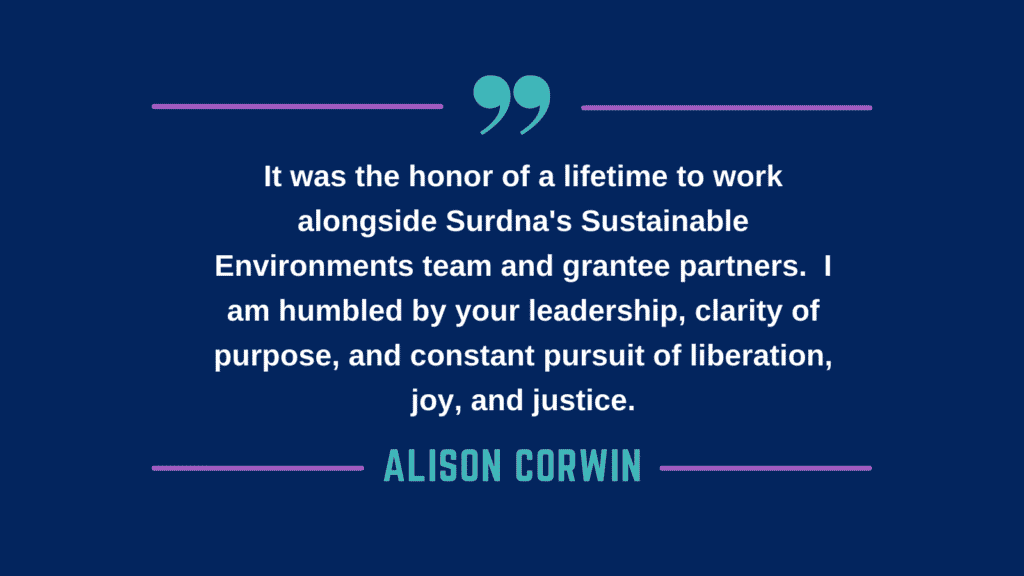 "I also want to thank our grantee partners—we've built and pushed together, y'all have held me accountable, taught me, invested in me, and trusted me enough to share your dreams and visions," said Alison. "I am humbled by your leadership, clarity of purpose, and constant pursuit of liberation, joy, and justice."
We are thrilled to share that Alya Davis will serve as Interim Program Officer. Alya joined the SE team in January 2020 and has been the backbone of this team; she embodies the Sustainable Environments spirit and she's extremely skilled and ready to play this important role. Alongside longtime consultant partners and Surdna colleagues, Alya will work closely with grantee partners as we transition the team to its next formation.
"During her almost decade-long tenure at Surdna, Alison has been an impactful grantmaker who sharpened Surdna's focus on racial justice and showed what's possible when funders follow the vision of the frontlines," said Surdna President Don Chen. "I'm grateful for Alison's contributions to Surdna and the field—and thrilled that she'll be able to work at an even bigger scale in her new role. I look forward to continuing to collaborate with her on climate and environmental justice."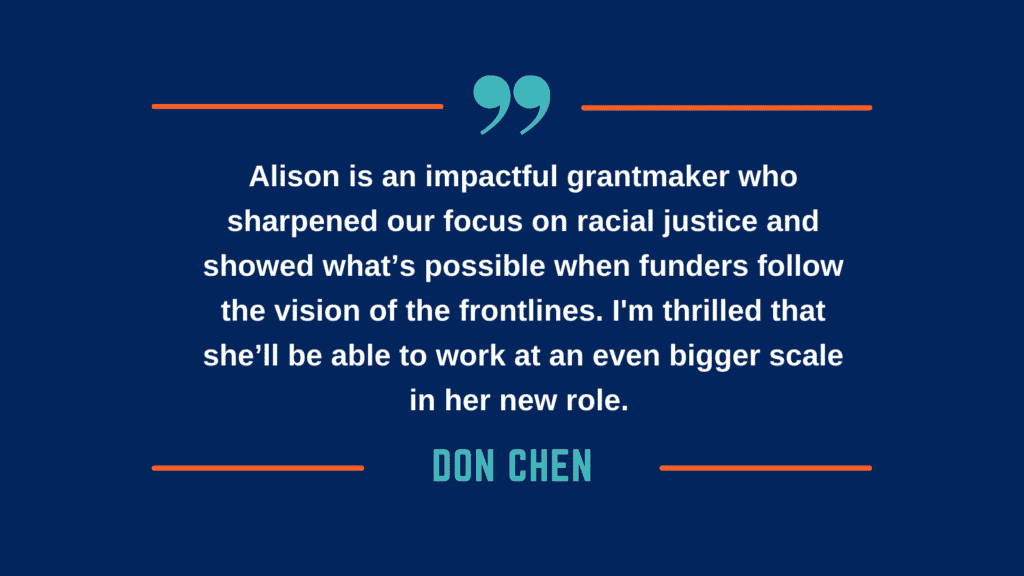 Given Alison's transition, we will pause our current search for the SE Program Officer position while we chart the team's next chapter. We want to thank Monday Morning Consultants for their incredible partnership and work to help us find our next SE team member. We will share news as we have it about the status of the search.